It was a simple mistake. How could Tim have known better? No one had told him not to put a 40-year-old, wooden cutting board in the dishwasher -- or that it would break apart in 3 pieces. But as it turned out, it wasn't a mistake...
...it was serendipity.
This wasn't just an ordinary cutting board. It was an heirloom gifted to his wife, Tanya, that carried over 40 years of memories passed down from Tanya's grandmother to her mother to Tanya. Tim knew how much the cutting board meant to Tanya, but it wasn't the cutting board that Tanya would miss, it was what the board represented.
Fortunately, Tim had plans to visit his father the next day in Pennsylvania and took the pieces of the cutting board with him. For over 35 years, Tim's father has designed and built custom kitchen cabinetry, and Tim was hopeful that his father would be able to help. Some days later, Tim's father returned the cutting board and Tim was astounded. It was in better shape than when Tanya received it. To Tim's relief, all of Tanya's precious memories had been preserved.


And this is where it all began.
What first appeared as a mistake began to look like fate, and Tim and Tanya saw an opportunity. In today's disposable society, very few items have sentimental value. The truth is, time passes and memories fade. What we leave behind is all that remains.
The kitchen is the center of all activity; it's where you'll carve your first turkey, make cookies with your grandmother, teach your children to cook, laugh with your partner and cry to your best friend. The kitchen is where love, warmth, and memories live. Our boards are designed to keep those memories alive so every time you use it, you're not alone.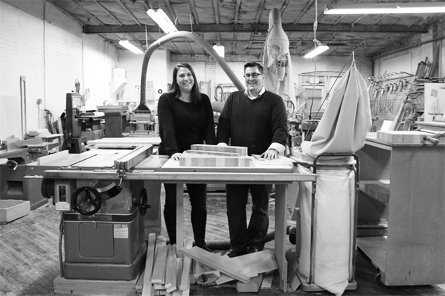 Our Process
Tim and Tanya are dedicated to creating the most beautiful and longest-lasting cutting boards on the market from wood that is responsibly sourced. As a Marine Corps Veteran who was deployed three times in support of Operation Iraqi Freedom, Tim understands that the most precious commodity we have is time, and making memories is time well spent.
Like nothing you've
ever experienced.
Click on the dots to see why.