Exclusive Holiday Offer: Up to 25% off Corporate Orders
This holiday season, give your clients and employees a gift that will be cherished for generations. Order by October 15 to get big discounts!
20% off 5 or more boards
25% off 15 or more boards
FREE 14" board with every corporate order
Order today! Offer only available through October 15.
A Gift They Will Never Forget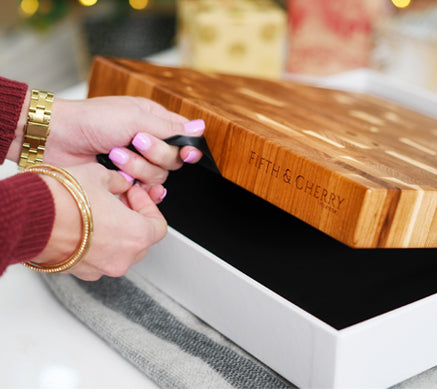 A Fifth & Cherry cutting board is a gift with real value, both practical and sentimental. Our boards are meant to bring your family together in the kitchen, where lasting memories are created together.

Most consumer products today are manufactured to be disposable. And most of them take us a little further apart from each other rather than bringing us together.

We like to think that our boards represent the opposite — durable goods made with love and pride of craftsmanship, designed to strengthen our connections with those we care about most.
Start Your Holiday Order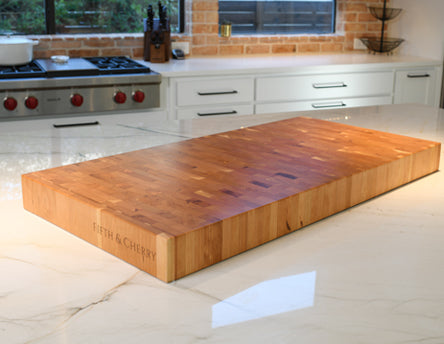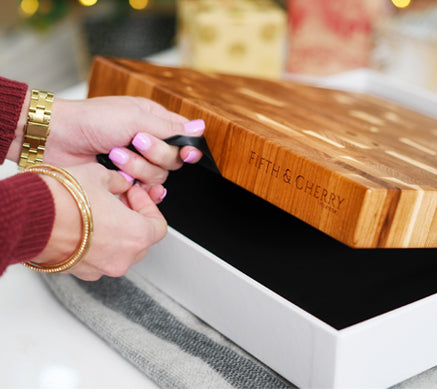 The True Spirit of the Holidays - Connection and Appreciation
Every Fifth & Cherry handcrafted cutting board is built to last. Our boards are so much more than just kitchen utilities.

They're stunning centerpieces. Conversation starters. Family heirlooms that are made to be passed down through the generations.

And most importantly, they're handcrafted to be a cornerstone piece in the kitchen — the place where the family gathers and where memories are made.

Our mission at Fifth & Cherry is not only to help you make memories with your loved ones but to help you preserve them for generations to come.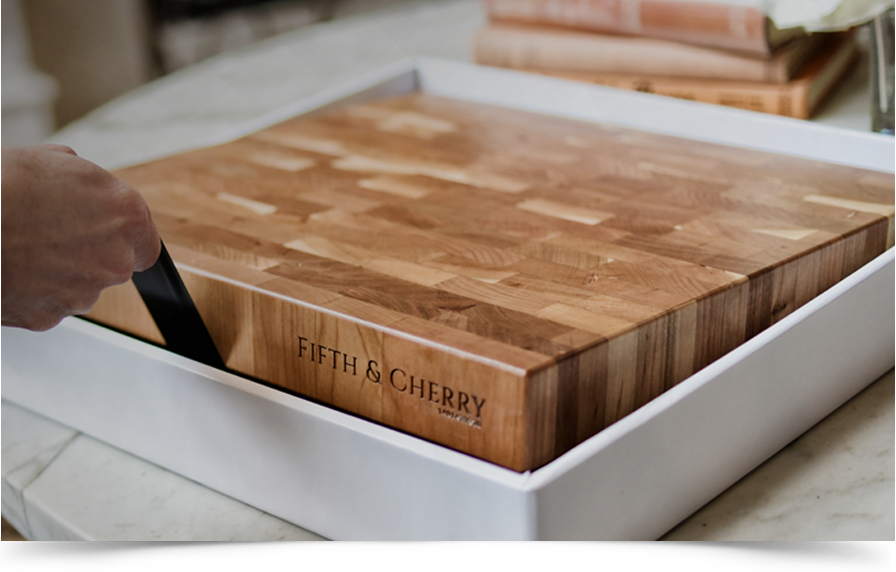 Exclusive Offer for Corporate Customers — Through October 15 Only!
We're offering these amazing deals on corporate orders placed by October 15:
Order 5 or more boards of any size and get 20% off your entire order!
Order 15 or more boards of any size and get 25% off your entire order!
You can choose to personalize the boards with your company logo/slogan, or purchase standard boards bearing the Fifth & Cherry logo.
All corporate orders include a handwritten card with your personal message.
We can ship to a single location or direct to your clients'/employees' homes - shipping is always free!
PLUS: when you place a corporate order you will receive a FREE 14" board for yourself!
Don't delay! Place your holiday order today and take advantage of this exceptional offer!
Fill Out the Form Below to Start Your Holiday Order
Enter your name and email address below and a Fifth & Cherry customer relations specialist will contact you to get your order started.
{formbuilder:58823}