The Ultimate
Big Green EGGcessory
Unparalleled quality and craftsmanship. Free lifetime refinishing. Buy the only end-grain cutting board worthy of the Big Green Egg name.
SHOP NOW
The Finest Cutting Boards Ever Created
Fifth & Cherry products are made with the same commitment to excellence, craftsmanship and lifetime customer service that you've come to expect from Big Green Egg. These officially licensed Big Green Egg end-grain cutting boards celebrate that kindred spirit with a one-of-a-kind product that will be a staple of your kitchen for life.
Fifth & Cherry: A Cut Above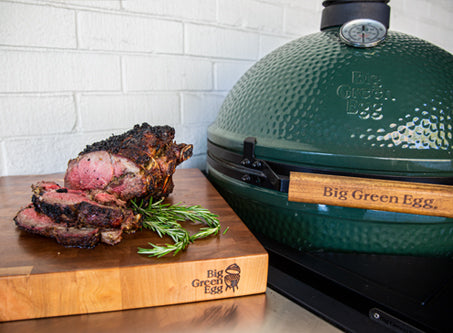 Lifetime refinishing: Any time your board needs a touch up, send it in for free refinishing by our expert craftsmen.
Made to last: The last cutting board you'll ever need to buy. Just like Big Green Egg, Fifth & Cherry cutting boards are backed by a full lifetime warranty.
Highest level of craftsmanship: Built with an enduring commitment to the highest quality possible.
Artisan pride: Each Fifth & Cherry cutting board is a labor of love. An ideal gift for anyone who cherishes one-of-a-kind, handcrafted goods.
Knife friendly: Constructed from end-grain American Black Cherry wood, the best possible surface for longevity and the best for maintaining the sharpness of your knives.
Unmatched durability: Staggered seams and a proprietary steel reinforcement system make this the most durable board ever created.
Get your Big Green Egg Board Today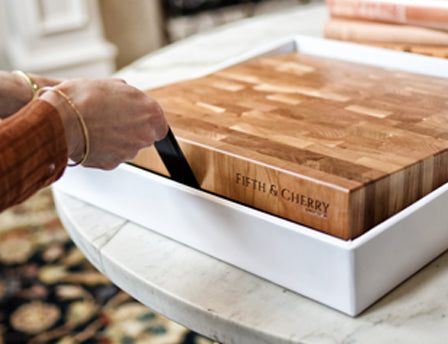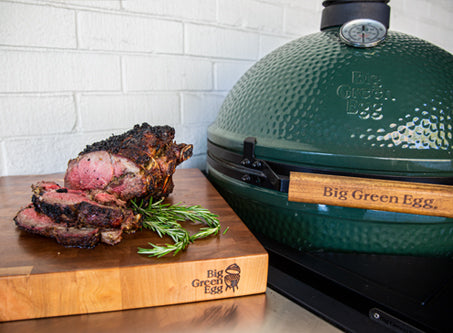 Like nothing you've
ever experienced.
Click on the dots to see why.
About Fifth & Cherry
Fifth & Cherry is a family and Veteran-owned business that makes the finest handcrafted cutting boards in the world. We believe in the power of expert craftsmanship and an unyielding dedication to superior quality.
Visit our website today
for more information.